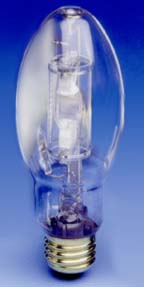 The SYLVANIA MetalArc PRO-TECH can be operated in either open or enclosed fixtures. Compared to other HID light sources, MetalArc PRO-TECH's spectral quality provides warm, well-balance color temperature and a superior color rendering index. MetalArc PRO-TECH lamps provide the same high performance and reliability as standard MetalArc lamps, and color consistency and CRI over life are measurably better. For low wattage lamps of 150 watts and lower, the maximum color shift over the life of the lamps is +2000K. Available in: 50, 70, 100, 150, 250, 320, 360, 400 and 1000 watts.
The SYLVANIA Lumalux Plus high pressure sodium lamps make it easy to identify and replace end-of-life HPS lamps. SYLVANIA Lumalux Plus lamps incorporate the latest technology to eliminate the sporadic on-again, off-again operation, which makes end-of-life lamps difficult to detect. Instead of cycling, Lumalux lamps will not turn on at all when they have reached end-of-life. Reducing service trips, required to identify lamps needing replacement, savings on maintenance time and costs can be realized. Lumalux Plus lamps contain 90% less mercury than standard HPS lamps. They are also designed with a leadfree, welded mogul base. Lumalux Plus lamps have an average rated life of 24,000 hours - the equivalent of four to five years service. Mean lumens are approximately 90% of initial lumens. No other HID light source comes close to that combination of service life and light maintenance. Lumalux Plus lamps burn in any position, so there is no need for multiple (base-up, base-down and horizontal) inventories. Universal mounting is made possible by a specially designed arc tube that significantly reduces operating voltage rise. Wattages available: 70, 100, 150, 200, 250 and 400 watts.
Color Temperature is expressed in Kelvins (°K) and describes the apparent whiteness of the lamp. A color temperature of (2700K to 3400K) is said to be "warm." (Incandescent lamps are between 2700K and 3000K.) A color temperature of 3500K is considered "mid-range." A color temperatures of (4100K to 6300K) is said to be "cool" in color.
Color Rendering Index (CRI from 0-100) indicates the relative color quality. It expresses how "natural" the light source appears. The higher the CRI number, the better the color rendering properties of the light source. The CRIs should only be compared if they have same color temperature.