Mytech OMNI Sensors
Adaptive Functions
The OMNI constantly analyzes and adapts to changing conditions:
Period
Time
Action
Installation
60
minutes
Timer automatically resets from Test (8 sec.) to 8 minutes.
Learning
Four
weeks
1. Response to Error Conditions: (false-ons, false-offs)
2. Air current adaptation
3. Timer optimization
Adjustments Made:
Ultrasonic sensitivity
Infrared sensitivity
Timer
Air current threshold
Post
Learning-
Occupancy
Periods
(Circadian)
After
four
weeks
1. 24 hour occupancy periods learned (circadian)
2. Weekly occupancy periods Periods learned
Adjustments Made:
a. Generally occupied periods: Threshold=High Sensitivity mode
b. Generally unoccupied periods: Threshold=Miser mode
Note: two major errors in Circadian mode (such as a false-off) will cause Learning Phase to restart.
Features
Two Operating Modes: Once the sensor has adapted to current room conditions, a threshold is set to determine which mode the sensor will reside in for that period. Once in Circadian Learning, the change between Miser and High Sensitivity modes is automatic.
Self-adjusting Settings: Callbacks for adjustment are eliminated. Ultrasonic and infrared sensitivity, timer, and air current compensation are continuously analyzed.
Battery-back-up Memory: Learned and adjusted settings saved in protected memory. Power outages will not cause status loss.
Wide Coverage: Select the approximate area needed. Units from 500 to 2000 sq. ft. available.
Small Size: The spherical-section shape makes the installation almost invisible.
Accurate, Consistent Switching: Occupant complaints are eliminated; lights are on when room is occupied, off when empty. Annoying false-offs are minimized and lights on at night is eliminated.
Visual Status Reporting: By waving 5 times at the sensor, the status is visually reported through a coded light sequence.
Fast, Simple Installation: a single mounting post and three color-coded wires make installation easy.
Controls
DIP Switch Settings (All switches OFF for full automatic opertaion):
Switch
Function
Auto (off)
Manual (on)
A1
Auto/Manual
Automatic
(Normal)
Manual On
(Override)
A2
Threshold
Auto threshold Adjust
High Sensitivity
(Low turn-on threshold)
A3
LED motion indicator
Lights indicate Motion
Disable LED Indicator
A4
Reset learned settings
Retain settings
(Normal)
Erase All Learned Settings, Restart Learning (Toggle On)
B1
Strong airflow compensation
Disable compensation
(Normal)
Enable Compensation
B2
Over doorway installation
No
(Normal)
Yes
(Use increase turn-on threshold)
B3
Timer adjust
Adjust timer automatically
Use manual timer setting
(No Adjustment)
Knobs:
Knob Color: Control
Function
Automatic Operation
Conditions Analyzed in Automatic Operation
Knob Setting Under Manual Operation**
Recommended Manual Setting
Green: Ultrasonic Sensitivity
Sets the ultrasonic range
Sensor analyzes room and sets sensitivity to optimal setting
Air currents False-on occurrences False-off "
Linear range setting Full CCW = min (off) Full CW = max range
95%
Red: infrared Sensitivity
Sets the infrared range
Same as above
Room (surface) temp Lens dirt Signal to noise ratio
Same as above
75%
Black: Timer
Sets the length of time lights will remain on after last motion is sensed
Timer setting generally increased during learning period, then decreases to minimize "on" time
False-off occurrences Error free operation decreases the timer setting
Linear range setting
Full CCW = min (8 sec.)
Full CW = max (30 min.)
33% 10 min.
Blue: Photocell
Sets level of daylight needed to prevent the lights from turning on
No automatic operation
N/A
Linear range setting
Full CCW = min daylight
Full CW = max (off)
Off unless used
** When a function is set to "Automatic Operation" the initial setting is determined by the position of the knob. CCW is counter clockwise, CW is clockwise
Ranges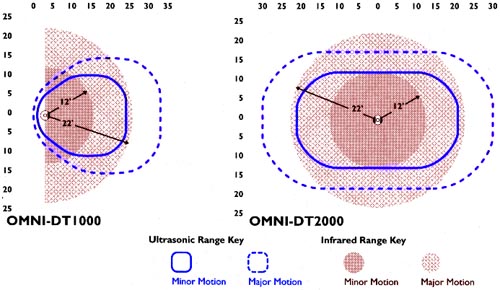 Automatic Timer & Automatic Sensitivity
The automatic timer and automatic sensitivity features of the OMNI-DT work independently to prevent "false-offs" and "false-ons." When the sensor detects motion immediately after it turns the lights out, a "false-off" is detected, timer and sensitivity are increased. if the sensor turns the lights on, but detects no immediate follow-up motion, "false-on" is detected, timer and sensitivity are decreased.

Indicator
Green LED Lamp: Ultrasonic motion; operational status code (every 2 minutes)
Red LED Lamp: Infrared motion.
Automatic Status Reporting
To speed installation and insure reliable operation, each sensor has an LED status lamp which flashes in red or green. Short Red flash = infrared motion detected. Short green flash = ultrasonic motion detected. In addition, the OMNI-DT reports internal status with a simple, encoded long/short pattern (Morse code) every five minutes via the green LED.
To bypass the five minute interval between status reports, a user my wave at the sensor five times rapidly (within five seconds) and the sensor will immediately flash its status and timer setting.
dot dot dot Green light "S" Normal operation
dot dash dash Green light "W" Range reduced due to air currents -suggest moving to another ceiling location
dot dash Green light "N" Networked operation
dash dash Green light "M" Network master
Code Explanation:
Timer #'s: See installation manual.
Physical Wiring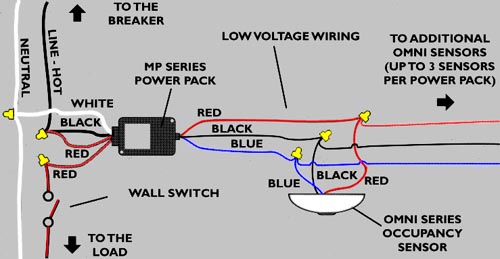 Options/Accessories
-RP: Relay and Photocell included (both). Relay: NO + NC contacts, 500ma rated @ 24vdc, three wire, isolated relay. Photocell: 0-1000 Lux adjustable, prevents lights from turning on when the room is adequately lit by natural light, mounts under the infrared lens.
-40K: Change ultrasonic frequency to 40,000 cycles per second (32K is standard).
WMR: Sensor mounting ring for surface raceway (5 pack)
Specifications
Construction: Two ultrasonic transmitters and two narrow bandwidth receivers each 16mm in diameter.
Frequency- Crystal controlled to ±.005%.
Transducers - Oriented north and south (DT2000 only, others use single pairs), angled 30 degrees down from horizontal.
Housing- Rugged, high-impact, injection molded plastic KJB ABS Cyolac (UL-945VA) flame class rating LN inhibitors.
Color coded leads are 6".
Size & Weight: 4.5 " dia., 1. 5 " height; 5 oz. (114 mm dia., 38 mm height; 142 g.)
Color: White.
Power Requirements: 24 VDC, 33 mA (use MP series power pack.)
Output: 24 VDC active high logic control signal with short circuit protection and optional dry contact (see -RP option).
Operating Environment: 32'F to 104'F (0 degree C to 40 degree C); 0% to 95% non-condensing, relative humidity. For indoor use only.
Warranty: 5 years