Mytech Motion Detectors
Updated 7/26/2008
Quantities limited to on hand: first come first serve.
Frieght and terms apply. Call Craig Maas at (701) 235-2035 or email for more details.
Billing:
Call or email with your request. We will confirm our stock.
If it meets your approval we will email a Paypal generated invoice, which you can pay with your credit card. We ship upon payment confirmation from Paypal.
We will also honor Purchase Orders from pre-approved customers.
Qty
Model
Descriptions
List Price
Distributor
Our Price
8
US2000
Ultrasonic Occupancy Sensor,
2000 sq.ft. coverage 24 volt
114.00
91.00
68.25
4
US1000
Ultrasonic Occupancy Sensor,
1000 sq.ft. coverage 24 volt
100.00
80.00
44.00
2
US500
Ultrasonic Occupancy Sensor,
500 sq.ft. coverage 24 volt
80.78
65.00
48.75
0*
MP120
Power Pack 120 volt
for US and DT Sensors, 20 amp
25.00
0*
MP277
Power Pack 277 volt
for US and DT Sensors, 20 amp
25.00
These are new units still in the box.
*I may be able to get more Power Packs from another source but the price may be more.
I also have 5 Leviton OSP20-RD0 power packs w/ HVAC relay, which are similar in size and function to the MP120 but have an additional circuit for switching HVAC or other applications. $25 each.
---
Spec Sheets
Mytech cut sheets: Omni-DT Sensors and MP Series Power Packs.
More Info about Omni Sensors (Adaptive Functions, Features, Controls, Ranges, Automatic Timer & Automatic Sensitivity, Indicator, Automatic Status Reporting, Physical Wiring, Options/Accessories, Specifications)
---
General Operation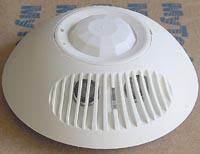 Occupancy sensors have two tasks: keeping the lights on while the room is occupied and, conversely keeping the lights off when unoccupied.
Ultrasonic (doppler shift) motion detection gives maximum sensitivity yet can be vulnerable to false triggering from air conditioning currents, corridor activity and movement of inanimate objects. infrared motion detection gives immunity to false triggering, but lacks sensitivity at greater distances.
Upon room entry sensor is in "high confidence" (miser) mode.Infrared/ ultrasonic composite must be above a specific threshold to turn lights on.
Once occupied, sensor enters "high sensitivity mode' "The threshold automatically lowers and the slightest movement will keep the lights on.
When unoccupied, lights stay off while air conditioning system cycles on and off, and cleaning crews occupy corridors.
Composite Dual Tech Sensing
Using infrared sensing (high error immunity) with ultrasonic (high sensitivity) provides good performance. Conventional dual tech sensors use a simple formula for operation: BOTH for ON, EITHER for KEEP ON. This method requires that both sensors receive fixed-strength signals for ON or a single fixed level signal for KEEP ON.
The OMNI uses a more sophisticated method called a composite signal where the signal strengths are added together to form a composite sum. The advantage of this method is that a week IR signal plus a strong US signal will turn the lights on because the sum is enough. The installer need not worry that the signal level be balanced for reliable lights on.
---