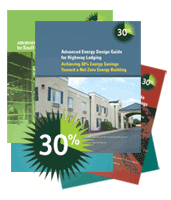 ASHRAE and its partnering organizations have made the Advanced Energy Design Guides available as free PDFs. The guides encourage energy efficient design in a range of building types: K-12 schools, small office and retail buildings, small warehouses and self-storage buildings and highway lodging.
They are available at www.ashrae.org/freeaedg.
The guides help to educate the marketplace on how to build energy efficient buildings that use significantly less energy than those built to the minimum code requirements.
| | |
| --- | --- |
| | K-12 School Buildings For elementary, middle, and high school buildings, which have a wide variety of heating and air-conditioning requirements. Options for daylighting, an important component in schools, are included. |
| | Small Office Buildings For office buildings up to 20,000 ft2 the bulk of office space in the U.S.; and provides benefits and savings for the building owner while maintaining quality and functionality of the office space. |
| | Small Retail Buildings For retail buildings up to 20,000 ft2, typical uses: retail; strip shopping centers; automobile dealers; building material, garden supply, and hardware stores; department stores; drugstores; equipment and home furnishing stores; liquor stores; and wholesale goods . |
| | Small Warehouses and Self-Storage Buildings For warehouses up to 50,000 ft2 and self-storage buildings that use unitary heating and air-conditioning equipment, which represent a significant amount of commercial warehouse space in the U.S. |
| | Highway Lodging For typical hotels found along highways having up to 80 rooms, generally four stories or less, that use unitary heating and air-conditioning equipment, which represent a significant amount of commercial hotel space in the U.S. |